When we worked together on our roadmap in the middle of last year, we could not have imagined the situation we would be in by spring 2020. A situation in which it is obvious how important and relevant it is to share reliable information on time. So that one physician learns from another physician's successful treatment and researchers worldwide help each other by sharing data, be it on the geographical distribution, epidemiological course or results of CT scans of COVID-19.
As TU Delft Library, we are aware of the power of openness as a starting point. That suits a university community, and it suits a library. Our building invites you to get inspired and gain new insights. TU Delft conducts ground-breaking research and provides leading education in the field of science, design and engineering – we offer, preserve and describe the rich and relevant results of this research and education to society and peers. We ensure that our students, instructors and scientists have access to the knowledge of others, and that they enrich and broaden themselves by inspiring them with this knowledge.
There's nothing in a book you can't open, research data that no one can access, knowledge with a lock on it. The world becomes more valuable when knowledge flows freely. That is why we still carry the same mission in our roadmap 2020-2024: "Working together to ensure a free flow of knowledge".
We have put our focus for change in the coming five years in three strategic themes, being open science, visibility & impact, and an inspirational learning and working environment. That does not mean all our activities of now and in the future fall underneath these themes, but it is where we want to stand out.
Within the three themes we have selected twelve key actions. And on top of that we have identified building blocks for the organisation. What does it mean for us, working in the library, if we want to achieve our ambitions? What will we have gained in knowledge and skills in 2024, with whom will we collaborate, who do we want to be and what do we need to be able to reach our goals?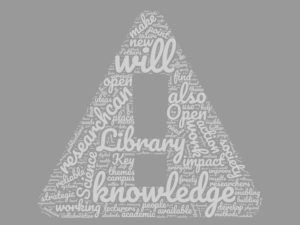 To pick a few of these actions, just copying and pasting from our roadmap:
Key action point 3: An open infrastructure for academic communication
In alliance with international partners, we will move towards an infrastructure for academic communication that is as open as possible. That means taking concrete and realistic steps away from the current closed systems towards more open systems. We will do this by encouraging the implementation of open-source software and making use of open file formats. We will launch pilot projects to develop these.
Key action point 2: Developing open access publication forms and services in order to improve visibility
Open Access publications are easier to find and are cited more frequently than those behind paywalls. We are working to further improve the visibility of TU Delft publications by advising people on campus about this issue and by providing assistance with different types of open-access publications. We will further develop the TU Delft OPEN initiative to ensure that by 2024 it will be the central place for researchers and lecturers to publish for open access and to receive advice on new publication and dissemination strategies. We will also collaborate with external parties on open-access publication initiatives and develop alternatives to traditional forms of publishing.
Inspirational learning and working environment
Key action point 3: Setting up a stimulating annual programme
We will promote the general development of both students and staff by critically questioning the role of technology in our society and broadening the academic horizon of our target groups beyond the boundaries of their own specialist disciplines. We will position our programming at the interface between science, art and society, connecting people and ideas to benefit initiatives that will have an impact on a better society (Library as knowledge hub/knowledge broker). We will use themes to make the physical, digital and special collections – including our heritage collections – visible and accessible to our users. We will also keep a record of important ideas raised in debates, in order to enable us and others to build on these further.
Organisational building blocks
Without our most important asset, our Library people, we cannot create all of the above. Our Library teams are dedicated to their work and are incredible! I cannot thank them enough … (including here all our temporary staff, often students, as well):
Abe Abel Adriaan Alastair Alenka Andre Anke Ardi Arend-Jan Arent Arezoo Arie Arline Armand Arno Berhan Berjan Bianca Bonnie Brigitte Cathelijne Cok Dana Daniël Daniel Daphne Deirdre Dirk Jan Egbert Ellen Enrique Eric Esther (2!) Fabian Femke Ferenc Frank (2!) Frederique Friso Geertje Geraldo Han Hans Hasret Henco Hennie Hugo Ilse Inge Ingrid Ivan Jaap Jacqueline Jan (3!) Jan-Willem Jeroen Jillis Jim Joke Joop Jorden Jos José Jules (2!) Just Justus Karin Kees (2!) Klaas Laura Leo Lester Lida Lies Linda Louise Lucile Luuk Madeleine Maik Mandy Marcel (4!) Marco (3!) Marian Marieke Marietje Marijke Marina Marion (2!) Mariska Marja Marlee Marleen Marlies Marta Max (2!) Melle Michel Michiel (2!) Mieke Mike Miriam Monique (2!) Najiba Nicole Nicoleta Niek Odette Omar Paul Paula Petra Pieter (2!) Pim Remco Rene Rob Robert Roland Ruud Sabine Sander Sandra Sanne Sarah Saskia Sid Sylvia Thijs Thomas (2!) Tim Ton (2!) Trudie Vincent Wieger Will Wilma Wopke Yamiro Yannick Ymke Yolanda
As you can imagine I am very proud that we have our roadmap now – in a form that makes it able to report on progress the coming years. It is a road that I will follow with great eagerness, more about that in my next and final blog as director TU Delft Library!
Linking to the doi's of the pdf versions of the roadmap in NL, and in English.