What – on 24 December 2018 – could I possibly add to the wealth of information recently published about Plan S? That question has been on my mind the past few days. I have the habit to post something towards the end of the year, and obviously this should be about this topic. I have tried to catch up a bit, after some busy weeks, with reading.
Let me list some of the sources I have read through for this: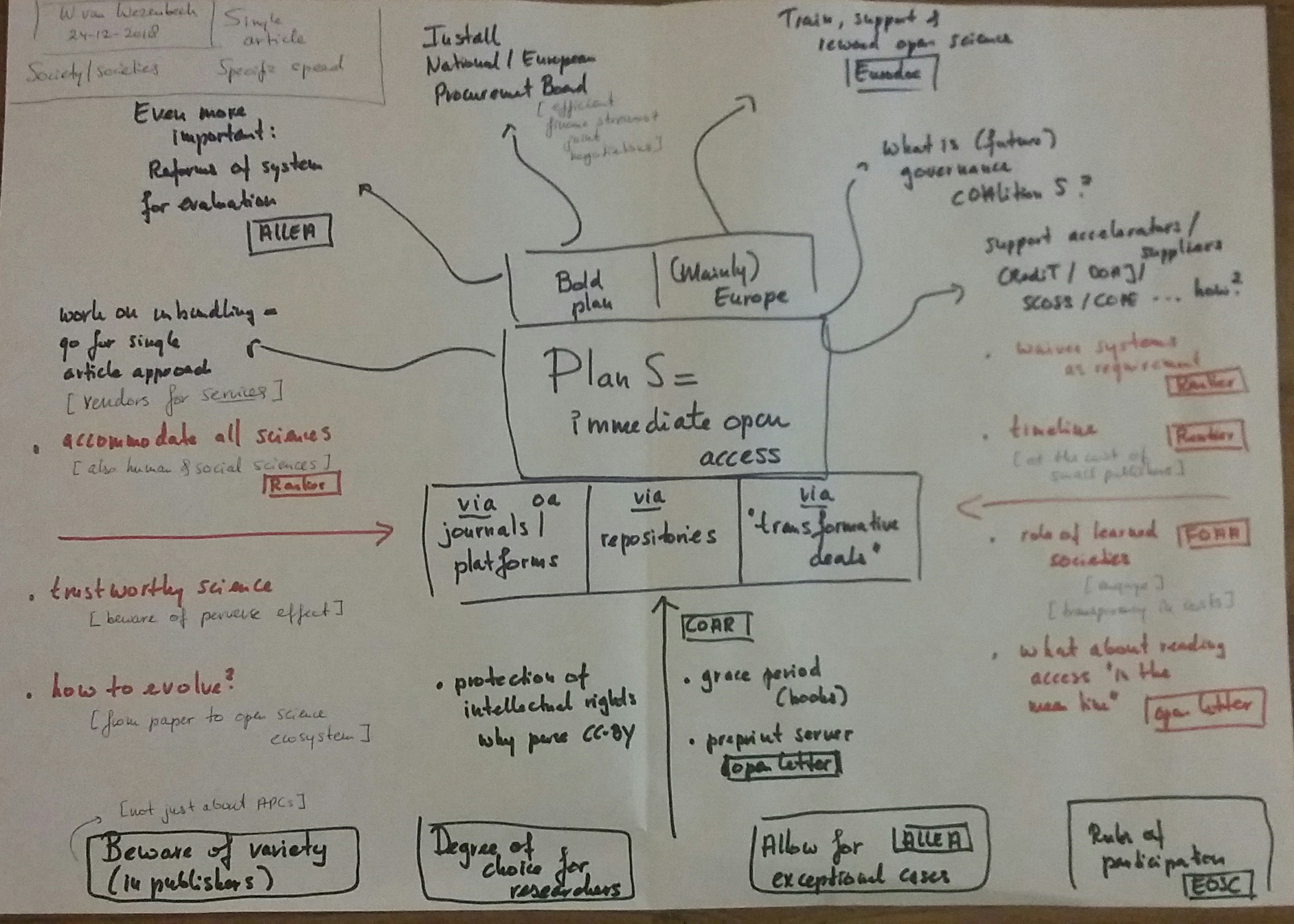 And here is what I have been chewing on, for the ease of it in only three words / phrases, coincidentally all starting with an S.
SINGLE ARTICLE
Plan S is requesting an appropriate response from the publishers, in how they will accommodate the requested requirements to move to open access as per 2020. In doing this it has drafted three routes that will be compliant. Probably some of this still will get some improvement / change after all input has been collected during the open consultation with a deadline of 1 February 2019. Main focus however is on the article as part of a journal, platform or repository. And perhaps that is one of the difficulties. How can we concentrate on the single article, not as a collection within a predefined and set venue, but to judge it on its own remit? This single article should always be made open, open for comments, for review, for improvements, and only at the end of this process be contained in, well, a container. Yes that means preprints should be stimulated, and be compliant. It is the optimum immediate. I realize issues around "trustworthy science" still need to be resolved, but also here university / institutional leaders have a role (see further down below). And this turns around a lot what we have been doing so far, also as libraries involved in negotiations.
SOCIETY/SOCIETIES
We want open access, and we think that some vendors make too much money out of the publishing process. Yes we want open access, but we need to know what costs are related to this, to avoid the same thing happens as happened with the (price of our) subscriptions. Getting back to the why, we want research to be open, for academic peers (including those in the Global South), for small enterprises, and for society at large. And we know that for a lot of disciplines learned societies are involved in publishing, and by doing so "plough back" their income in grants or other benefits for their members. This complicates matters, doesn't it? I agree with FOAA that the role of learned societies should be clear, be re-assessed and that they should be more in the driver's seat, provided that they are transparent about the costs they make and what they give back to their researchers. I also agree that we should be careful with capping the APC (but you could cap the grant), and with concentrating too much on APC-driven open access.
SPECIFIC SPEED
100% open access of our scientific publications in 2020. That is our ambition, and that has been our ambition as of the Council Conclusions in May 2016. In Plan S it is acknowledged that we need to look at a different speed or pace for open access books, and maybe more diversity should be built into the current plan. For some disciplines 100% open access will be realized, immediate, in 2020. For others this will be the case, but some publications might still carry an embargo period. Slowly but firmly the system is changing. However as I also noted when writing the Dutch National Plan Open Science, the biggest change will be in a global alignment of how we assess and reward researchers. If that change is implemented, the whole issue on publishing and costs can end in being pretty marginal.
Last year in December I made reference to Erin McKiernan, and I would like to rephrase her again here. Especially the part on what you can do as an open scholar, and that is:
edit and review only for open access journals,
publish only in open access journals,
openly share my working manuscripts as preprints,
openly share my code and data under version control,
openly share my electronic laboratory notebooks,
sign my manuscript reviews,
preferentially assign openly licensed materials in my classes,
create openly licensed teaching materials,
ask my professional societies to support open scholarship,
speak out in support of open scholarship.
However now I think it is not just the open scholar, but the open administrators and leaders that should really live the Codes of Conduct or Declarations that prevail in their institutes or they have undersigned.
So perhaps I have not added another clear statement on plan S, I must say that I am pretty curious to what 2019 will bring. Let's go for it!
Ipdated 25 December with higher resolution image.