A week can bring a lot. Next to the regular meetings I have at the university (being back to normal now with "just" one assignment, i.e., being a proud director of TU Delft Library), I managed to spend some time outside as well.
It started with a gathering of the SAE ("Stichting Academisch Erfgoed") at the Tilburg University on Friday 8 November, where Bas Haring gave a lecture about "Imagining Economics" (this was the so-called Dijksterhuislezing) in the afternoon. It is always nice to hear him speak (the last time was at a lunch session of our own Studium Generale), and I was proven right. What would a Museum for Economics look like? Should it be a virtual one (he actually made a prototype), and if not, how can you bring in facts, instruments or an experiment for such a topic? Haring's mission is to "let people walk around just a little bit wiser", and he thinks it is pretty important that people understand more, also about economics. There are only two examples of such a museum in the world, one in Mexico, and one in Paris. The latter one he is planning to visit. My mind kept thinking of Haring's mission – is that also what we as Libraries want? To let people walk around a bit wiser?
During the second field trip I attended a few sessions at the Smart Humanity Congress of the KNVI on 14 November. In the morning we had our regular UKB Directors' meeting at the same venue (OBA, Amsterdam). It was the first time I attended a Congress like this at the OBA, and I must say the participants easily blended into the surroundings of this public Library. It was a real pity though that Jan Willem van Wessel could not finish his lecture about artificial intelligence (he had to speed up drastically in the end). He referred to a term David Lankes uses, i.e., muddled vocabulary (here Lankes explains this). To avoid this muddled talk Lankes suggests to "break the conversation down into more precise, and actionable concepts … So rather than just think of A.I. as a big amorphous capability, I ask you to think about three interlocking layers: data, algorithms, and machine learning." Van Wessel preferred the term augmented intelligence. It is "the use of technology to supplement and support human intelligence, with humans remaining at the center of the decision making process". With my own observation over the past period that everything "reads" artificial intelligence, I would be happy to use this term instead. Another point Van Wessel made was that libraries should not wonder what AI could mean for them, but what they could contribute to AI.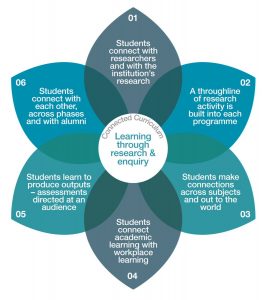 Finally my last (this time a full day) inspirational moment was in Rotterdam (again a venue I knew, but not for a Congress, the Maassilo), where on 15 November the VSNU and EUA organised a meeting about recognition and rewards. In May I attended the EUA meeting, and now the Knowledge sector of The Netherlands stood in the spotlight, with the position paper "Room for Everyone's talent" which was  published in the same week in November. Of course there was a bit of a repetition during the day compared with the meeting in May this year (the same speaker Van de Walle from Ghent University, but his story still deserves to be told), with the need to focus on dialogue, allowing for diversification, involving all stakeholders, and using both a top-down as well as a bottom-up approach. Nevertheless it was good to be there. Good to see the position paper, not as a paper statement, but with actions that will be taken up. Good to see that our own Vice-Rector Rob Mudde was attending the full day, and with him a lot of university Board Members were present. For me the outstanding lecture was made by Dilly Fung and her "Connected curriculum". Because I had not heard her before, and she mentioned a few things that are very relevant for us librarians. Students should be guided to "deal with the unexpected". A very important element in her speech was about connecting and linking research and education, from the very first moment. Let first year's students meet with researchers and let students interrogate them. Students should be part of an inclusive community. And that resonated with the pointly introduction of the day by Rianne Letschert and Frank Baaijens, the VSNU representatives for this topic: "be curious, be criticial, share ideas & concerns and become involved".
Where do these three separate events bring me? Well they make me even more convinced that libraries could and should curate the dialogue, that it makes sense that we are involved in taking care of our academic heritage, that we should better understand what we can contribute to AI and that universities are serious in getting their researchers, teachers, students and support staff rewarded and recognised for what they contribute to their team, their department, university and society! But perhaps even more so – that we help to make people just a bit wiser ..