So what are you going to do now? People ask me, now that they know that I am (in the midst of) handing over my role of program manager open access at the VSNU to Darco Jansen. Darco started March 1, and where I had two days available (next to my current position of TU Delft Library director), he holds a fulltime position, combining open access and open science. At first I was a bit surprised by the question, don't people realize that being a Library director in a very dynamic environment is a fulltime job? But putting myself in their shoes (as we all should do more often;-), I realized that I might as well just explain a bit more.
Open + open = oxygen
Open access, open publishing, open education, FAIR data, open source software, how to work transparent with industry and citizen science. It will be challenging to be working on open science in TU Delft the coming period, and to focus on these seven areas. Exciting! And there is always more to think about. I just read the article by Katie Wilson et al., in Information Research, about "Access to academic libraries: an indicator of openness?". It triggered me, because one of our TU Delft Library teams is called Open spaces, and with a reason. We want our spaces to be open as well, realising that a lot of our inspiration and knowledge creation is also connected with an inspiring physical learning environment. As Wilson et al. wrote: "The need for physical access to knowledge through libraries remains, and it is important to expand the focus of open access to beyond the digital." And ".. we need to think more broadly about maintaining openness to knowledge as a whole." My work as program manager open access made me an expert for issues as transformative deals, negotiations, or open access workflows. I feel it is time to take a look at the broader picture again, and have some time to breathe and see how we can bring more oxygen, more open, in our Library.
Collaboration = needed
Another hat I am still wearing is being Chair of the Dutch consortium of university libraries and the National library (UKB). For the first time in our 40-year existence we brought out a joint statement (not surprisingly, in response to Plan S). We have the unique opportunity in The Netherlands (where 14 universities can easily get together, also physically) to find and exploit the right collaboration that is so needed to move forward. My colleague in our UKB executive committee, Hubert Krekels, alerted me to an article about library collaboration by Lorcan Dempsey. As Dempsey concludes: "It makes increasing sense to do things together in a network environment, where scale benefits both efficiency and impact. And yet current approaches will not suffice to meet this need. Collaboration is hard." Together with WUR Library we are exploring our cooperation; we now enter our third year and are positive in what we have achieved, and there is more to come. It is hard work, but not impossible!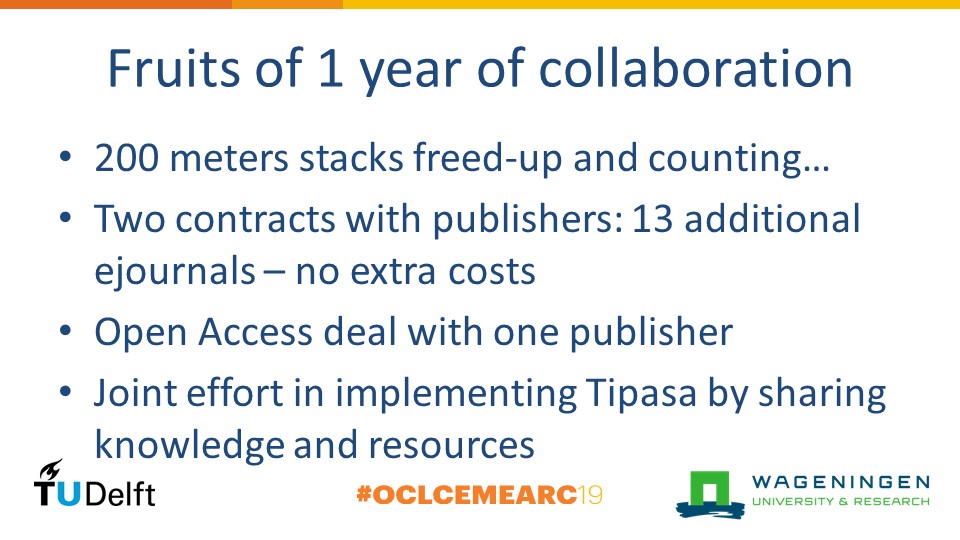 Time = limited
Last Summer I realized that the work needed to coordinate open science, including open access, for the universities in The Netherlands, would take far more time than my available "two days". I am proud of what we have achieved so far (giving credits also to Robert van der Vooren, my predecessor at the VSNU, with whom I have worked together as of 2014). In our latest eZine our progress on the five pillars is visible. And yes we are also moving forward here, with our greatest achievement perhaps being our realisation that the open access world can do with some more "nuance" and less polarisation. It is possible to have a preferred "gold" route for open access, and at the same time start a campaign to stimulate "green". The pilot project "you share, we take care", led by the VU Library deputy director Arjan Schalken, has now been running for almost two months and will help to open up scientific publications from the Netherlands.
Rectores Magnifici of the Dutch universities are sharing their recent scientific articles in #openaccess based on Dutch copyright law.https://t.co/J5n9KTLynE

— arjan schalken (@arjanschalken) March 11, 2019