Last week I was part of a TU Delft Library's team visit to TIB Hannover's Open Science Lab (here is the blog post with our findings). Apart from knowing that it is sometimes good to take time to reflect on your own performance and go out and reach out to others to learn and grow, it also gave me some opportunity to connect a few items I encountered over the past weeks. Let's pick three.
"The beautiful risk of education", recommended to me by Nicoleta Nastase: "if you have some time, listen to one presentation, from 2017 already, but great to listen to". I could not agree more. Let me see if I can capture what Gert Biesta told (or wrote about) here briefly. He said that "tomorrow needs a school, not per se a place for learning, but a place where we encounter difficult questions, things we did not know, or were not looking for. A place for practising grown-up-ness". For learning you have or will have ample online replacements. But teaching is different. A school teaches, brings education, and gives you freedom to put things in perspective, so that our next generation has time to practice and finds out what it means to live in the world. "It gives freedom to its citizens, but also asks to use it in a grown-up way". And this education place is a place where we as said encounter difficult questions. Difficult in the short term, but valuable in the long term. So (in my own words) being a student should not per se be easy; it is not always useful to take difficulties away. The word that I see coming back is "value". The necessity to concentrate on things that are valuable in the long term.
This "value" was also present in (yes, I know it has been there for some years already) in the Google Aristotle project. They have (from 2015) published the five keys to a successful Google team, as findings of this project. In a blog posted by TechTarget the reflection about these five key elements lies in the word value: "Teams and organizations must show that they value everyone's contribution and not waste their time on useless efforts. Just as important is that all team members are doing their fair share to contribute to the greater effort. This unity and sense that the whole is greater than the sum of the parts is key to team success and ultimately for the organizational success." (Interestingly in my last blogpost I wrote how pleased I was with the recent focus on team work, but of course these "success" elements should also be taking into account.)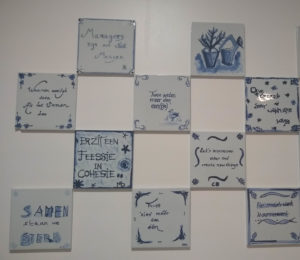 I came across this Aristotle project again because I participated in a half-day session on "liberating structures" (LS) a few weeks ago. Ten principles are being referred to: "The ten leadership principles … highlight what becomes possible when LS are used to structure everyday interactions. Everyday interactions mean meetings, one-on-one conversations, change initiatives, and interactions with clients/users. Principles are rules governing how we can choose to relate to others. They are statements of our beliefs about what helps create great organizations." The principles are often commonly recognized values but not practiced because we are stuck in our conventional structures and then there, as a result, is a gap "between what is said and what is done".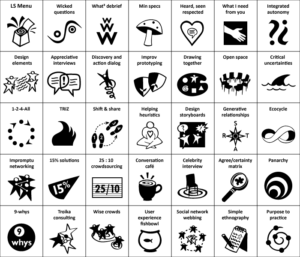 In our university's ambitions, as explained by our Rector Magnicifus Tim van der Hagen at our Dies Natalis earlier this year, we need to be ready to collaborate in entirely new ways. "I predict great changes in science and education: over the coming decade we – together with our partners in Rotterdam and Leiden – will remove the boundaries between the natural sciences, the social sciences, and the humanities (or the alpha, beta, gamma and medical sciences, as we call them in The Netherlands)."  "We will be breaking down barriers in order to build a new scientific edifice, founded on the principles of convergence, in a way that is unique within the Dutch academic landscape. We will be working together in varying line-ups, depending on the subject and on how we can best promote speed and achieve results. As administrators we will facilitate scientists and students to better meet societal challenges, in whatever form." And the way we will do this will also be in line with our recent updated Code of Conduct, where we emphasize our six core values: Diversity; Integrity; Respect; Engagement; Courage; and Trust. This adds another perspective on value to a successful team; after all, all six core values also need to be present!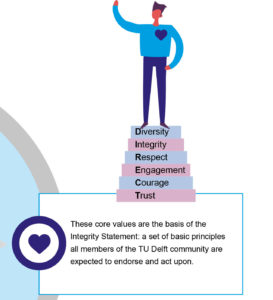 In this context it is, as I said, sometimes good to free up time to pay a visit to a colleague library, and share our work openly and learn from others. To discuss difficult questions, and to think how we can continously improve, also to be able to support the new "scientific edifice", and act on our core values. I guess it is essential to unleash time for this and to use liberating structures to get further than we would in our convential structures. And I think, in this specific case, that TIB's Open Science Lab's 10 step recipe for building and running an Open Science Lab is putting a lot of the above in practice!