After ending 2017 with open, indeed I also start with open. And with a good reason. On 12 January 2018 we said goodbye to our TU Delft Rector Magnificus Karel Luyben, first with a symposium and later at our university's Dies Natalis (foundation day). The theme of both events was open science, and I had the honor to be part of the preparations and the events.
In the morning I interviewed Karel (starting at 1:08) about the TU Delft open science approach. In the afternoon I reflected (starting at 00:37) on the morning symposium and made a bridge to the foundation day lecturer Geert-Jan Houben.
In Delft we now enter the 4th year of our open science programme. We make our research and education as open as possible, and as closed as necessary. We have many tools to realize this, varying from an open access policy, an open access fund, supporting open access journals and books, research data stewards at our faculties and a community for open source software.
For our research data stewards: The beginning of 2018 will see the data stewardship project moving at full speed. Data stewards at all eight faculties will carry out outreach, training and advisory work to the research community. This will happen in parallel with developing research data policies for each faculty. In December 2017 we got the approval to expand the data steward programme, and we will now move from 0,5 to 1 fte per faculty, for a two-year period (after the first "round" is finished). After that two-year period, it will be the faculties' responsibility to determine how they wish to continue with data stewardship.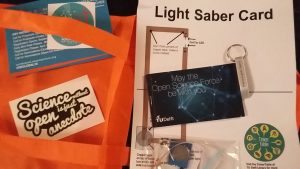 Acknowledging the importance of open science at an early stage, brought Delft the open science force that on 12 January 2018 was expressed in a lively lunch session "meet the services". The goodiebag at the end of the meeting contained coupons for a consultation for either open education, copyright, or a data management plan consultation. Other goodies were the possibility to record a knowledge clip, to publish an open textbook in a day, to make use of open source software (via a day's training), to make use of our data refinement fund or to become a data champion. Of course the invite to the Open education Global event was included, as well as the request to share your open science experiences with us (and then you might be interviewed for the open science course we developed for PhD's).
How will this all contribute to the impact we as university want to make for a better society? That is the subtitle of the new strategic framework TU Delft also launched on 12 January 2018. Is open science a catalyst for this? In Delft we believe so.